18
Nov
*** 50 Card Making Sketches Is Now Live ***
Get Your Copy Now At 50CardMakingSketches.com
*************************************************
I have some big news!
I know how much you all loved my free Inspired Card Making report (thank you so much for all your comments!)
In it, we explored why it is so hard to stay inspired and constantly come up with fresh ideas and hopefully I've helped you move past some of your fears and find more joy in your creations.
I want to take that one step further. I want to ensure you will always be inspired and be able to create cards that you love and that your loved ones simply adore.
We've all tried to find inspiration in magazines and online galleries but unfortunately we all run into the same problem – while the cards may look gorgeous, they usually don't tell you how to make them and if they do, you have to have all sorts of fancy supplies and equipment to make them yourself.
I thought that was simply unfair. Everyone should be able to indulge in the joys of card making and be proud of what you create. So, I wrote my own card making guide full of timeless ideas that can be adapted to suit any level of experience, any theme and any style.
It's been many hours of work and lots of love but it's finally here…well almost.
It will be available at:
7am on Friday, 20th November, 2009 (Sydney, Australia time)
For those of you in other time zones, that's:
12pm on Thursday, 19th November in LA (PST in the US)
3pm on Thursday, 19th November in New York (EST in the US) and
8pm on Thursday, 19th November in London (GMT)
I'm so excited! I wish I could share it with you right now. I have worked so hard on this to ensure it is the most useful easy-to-follow guide to card making that's chock-a-block full of ideas.
And I'm only two days away from being able to share it with you. I really do feel like a child waiting for Christmas, counting down the sleeps before Christmas morning.
I really wish I could share it with you right now, but as I can't, I thought you might like a sneak peak at my cover. Here it is: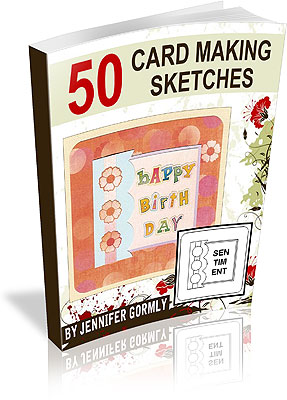 I'd really love to know what you think. Please leave a comment below and let me know.
Thank you so much!